In an article published in the December 2016 issue of
Smithsonian Magazine
, author Dale Maharidge chronicled the struggles that many of America's working poor, including high poverty rates, housing affordability issues and food-scarcity.  While just over 43 million people, or 13.5 percent of the population, live below the poverty line ($11,880) in the United States, over 31 percent – over 101 million – of Americans are considered "low-income," meaning they make no more than $48,600 for a family of four or $23,760 for a single person.  These families' low-incomes means that affording safe housing is frequently an issue, particularly because of the ever-increasing cost of housing. A portion of the article is dedicated to America's farmworkers.  Even though these people work long, back-breaking shifts, due in part to the seasonal nature of farming crops, these families often face great difficulty in affording basic necessities – like a safe place to call home and decent food – even while working full-time. In California's Central Valley, where
Self-Help Enterprises, Inc.
works, farms growing 250 different crops produce a fourth of the nation's food.  The article noted that since SHE was founded in 1965, it has helped family participants create over 6,200 homes in the region through the self-help housing program, which allows participants to use "sweat equity" in place of a down payment. By contributing at least 40 hours a week over the roughly one-year construction period, the families complete 65 percent of the labor in their homes with the help of their future neighbors.
On November 30, 2016, Bob Rapoza presented at the Housing Assistance Council 2016 Rural Housing Conference in Washington, D.C..  The National Rural Housing Coalition Plenary session included a discussion on what the results of the 2016 Presidential election mean for rural housing. To view the presentation materials, please click here for the
PowerPoint
and here for the
NRHC Transition Team paper
.
National Rural Housing Coalition convenes leaders in Affordable Rental Housing to Discuss Ways to Stem Increasing Shortages in Rural America and Prepare Recommendations for Legislators
Washington, D.C.—
On October 4-5, the
National Rural Housing Coalition (NRHC)
convened leaders from the rural housing community to evaluate and prepare recommendations that will ensure affordable rental housing options remain available to low- and very low-income residents. The purpose of the conference, which was sponsored by PNC Bank, was to gather feedback from the community and confer on data shared by staff from
U.S. Department of Agriculture (USDA) Rural Housing programs
. Using this information, NRHC will release a detailed paper on the state of affordable rental housing in rural communities. "While there were notable investments made several decades ago for the production and maintenance of affordable, rural rental housing, that federal commitment has not kept pace with the need in recent years," said Bob Rapoza, executive secretary of NRHC. "This is significant because USDA's current preservation efforts do not appear to be enough to sustain its rental housing portfolio, which is essential to providing clean, decent, and affordable housing for low-income residents in Rural America." USDA rental housing is frequently the only affordable rental housing available in rural communities. The average income for tenants is $12,729 annually, many (around 44 percent) are elderly or persons with disabilities and 70.9 percent are female headed households. USDA estimates that $5.596 billion in additional funding is needed over the next 20 years to preserve USDA's rental housing portfolio. Renovation of these developments is particularly important because USDA no longer provides loans for the financing of new rental housing developments in rural America.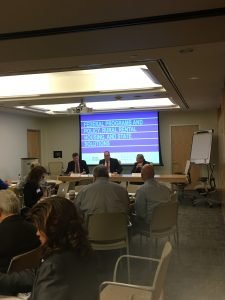 In addition, there is a rising tide of USDA mortgages coming to the end of their terms. When a USDA mortgage ends—whether it is due to prepayment or mortgage maturity—the property loses rental assistance eligibility, which provides a deep subsidy to very low income households.  As a result, an increasing number of very low-income households left with few or no alternatives for affordable, decent housing options. While the need for renovation and refinancing of the USDA multifamily housing portfolio is great, several organizations have taken advantage of opportunities to acquire, improve the quality of and maintain the affordability of these properties. By working with USDA and state housing finance agencies, as well as combining multiple sources of public and private funds, housing advocates like
Greystone Affordable Housing Initiatives
and the
Southwest Minnesota Housing Partnership
have succeeded in preserving USDA's rural rental homes. NRHC will work with USDA and members of Congress to promote these successful preservation strategies and identify obstacles to success to ensure that affordable rental housing in rural communities is preserved. "Congress and various Administrations have underfunded efforts to preserve the physical and financial condition of USDA's investment. As a result, none of the properties in USDA's portfolio have the capital needed to meet long-term operational costs," said Rapoza. "NRHC will continue to advocate for the funding and policies necessary to meet the affordable housing needs or rural people and families." #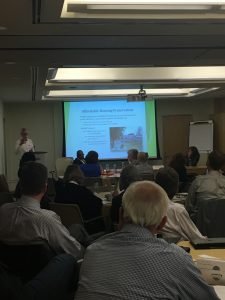 About Section 515 Rural Rental Housing Loans
For over 50 years, Section 515 loans have been used to improve the quality of affordable rental housing for low-income families in rural America. Today, nearly 400,000 rural families live in housing financed with low-cost Section 515 loans. # This press release was published on PR Newswire on October 6, 2016 and can be found
here
. To view the PowerPoint presentation from conference, please
click here
.
The U.S. Census Bureau's
annual report on poverty and income
in America was released on September 13, 2016. The findings of this report have been highlighted by many sources as an example of the economic growth experienced in many communities in recent years, noting that the median household income increased 5.2 percent from 2014 to 2015, the fastest increase on record.  For example, the
White House Blog
stated that the "report from the Census Bureau shows the remarkable progress that American families have made as the recovery continues to strengthen. . . . Income grew for households across the income distribution, with the fastest growth among lower- and middle-income households." While statements like this are certainly supported by the findings of the Census report, they do not provide a complete picture as to where this growth has occurred and the economic state of communities all around the country.  Specifically, within metropolitan statistical areas (MSAs), income levels rose six percent (7.3 percent for city dwellers, 4 percent for suburban and exurban residents).  Alternatively, the income levels for rural communities (including micropolitan statistical areas and areas outside of MSAs and micropolitan areas)
declined
by 2 percent. A 2015 CAP report, "
The Uneven Housing Recovery
," found that while many Americans have recovered from the economic recession, those that have not primarily reside in rural and nonmetropolitan areas.  The improved economies in metropolitan areas is related to growing populations and strengthening labor markets, which have aided these areas' recovery from the recession. Differentiated from metropolitan counties, small rural communities, which have not experienced the same level of recovery, have seen shrinking populations.  In fact, the U.S. Department of Agriculture
Economic Research Service
(ERS) found that between 2010 and 2015 the population of rural communities dropped 33,000 per year from 2010-2014 and 4,000 in 2015.  Comparatively, between 2010 and 2014, the urban population increased by more than
two million
people each year. Decreasing populations in rural communities present unique challenges, and are a further issue impeding economic growth for these areas.  For example, the Census report found that poverty rates overall declined 1.2 percent from 14.8 percent in 2014 to 13.5 percent in 2015.  As with the Census report's findings on income, declining poverty overall does not mean poverty has not increased in certain communities. From 2014 to 2015, the actual number of rural Americans living in poverty declined from around 8.2 million to 7.4 million.   However, the decline in the number of people living in rural poverty was primarily due to out-migration – not improved economic conditions. Thus, for this same time period, the Census report found that the poverty rate for rural areas actually increased, albeit slightly (+0.2). The point is there was not any progress in reducing economic distress in rural areas. The 2015 CAP report looked at the difference levels of recovery experienced by counties across the country.  The report found that most "struggling" counties are located in nonmetropolitan and rural areas.  These counties are characterized in the report as, at best, "stagnant" and more often "slipping" or sinking." Since 2009, slipping counties have experienced slow population growth and declining labor participation, and nearly 18 percent of the population in these areas live in poverty.  While homeownership is prevalent and renting is less common in slipping counties, the percentage of households who are cost-burdened, meaning they pay more than 30 percent of their income on housing, is much higher for renters than homeowners. Additionally, as housing prices have increased (from about 11 percent in 2011 to 11.5 percent in 2014, so too have vacancy rates, which were at percent in 2014. Sinking counties have fared the worst in terms of recovery from the economic recession.  In addition to higher unemployment rates than other counties, the labor force has declined since 2009 and since 2013, job growth has stalled.  New construction of housing has been declining since 2012, and vacancy rates between 2010 and 2014 remained stagnant. The Census report shows that many communities' across the country are recovering from the economic recession.  However, a closer look at the Census report, as well as other recent research on poverty, homeownership and employment demonstrates that this recovery is not spread equally with rural communities.  As the discussion on economic growth and recovery continues, policy makers should ensure that the need of rural Americans is not left out of the conversation.
Today, the US Census Bureau released their
annual report on poverty and income
. Economists predicted an increase of 1 to 2 percent in incomes in 2015, but the report showed a surprising 5.2 percent increase. A closer look at the data reveals a stark contrast between the economy in urban and rural communities.
Urban Areas on the Rise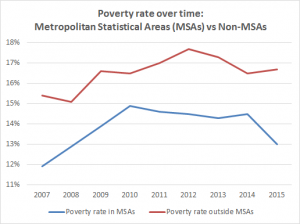 Inside of metropolitan statistical areas (MSAs), median incomes grew by 6 percent. Much of that growth was confined to cities dwellers, whose incomes rose by 7.3 percent compared to suburban and exurban residents, whose incomes rose by a more modest 4 percent. This is the largest increase in median income since before the Great Recession. The poverty rate declined in MSAs, dropping from 14.4 percent in 2014 to 13.0 in 2015. Inside MSA cities, poverty dropped sharply, from 18.9 percent in 2014 to 16.8 percent in 2015, and in the surrounding suburbs, it dropped from 11.8 percent in 2014 to 10.8 percent in 2015.
Rural Communities Continue to Stagnate
In 2015, rural* median incomes declined by 2 percent, which is just inside of the margin of error.  Poverty remained stagnant, increasing a statistically insignificant 0.2 percent in 2015 and settling at 16.7 percent. Regardless of whether the decline in rural economic conditions was statistically significant in 2015, it is clear that rural communities were left behind last year as our economy continued to grow modestly. Rural mortality and out-migration continues to hinder growth in small towns and farming communities. In fact, the number of rural residents living in poverty
actually declined
by about 10 percent, from 8.2 million in 2014 to 7.4 million in 2015, but because of population loss, this decline was not reflected in an accompanying decline in the overall poverty rate. *
Includes both micropolitan statistical areas and territory outside of metropolitan and micropolitan statistical areas
Crossposted at the National Rural Housing Coalition
Alton and Robin Alexander lived in Western Michigan with their two daughters in a comfortable, modest and safe neighborhood prior to the Great Recession. However, as the nation's economy struggled, this family of four lost their home and was forced to move into a substandard rental unit. The Alexanders' story is not unique. Homeownership is considered a central tenet of the American Dream, but its value to families and communities is sometimes overlooked. June is National Homeownership Month, which shines a spotlight on the value of homeownership. For many low and moderate income rural families, homeownership is only possible through financing from U.S. Department of Agriculture (USDA) Rural Housing Service programs. In Fiscal Year 2015 alone, USDA Rural Development awarded $900 million Section 502 direct single-family housing loans and made more than $18.6 billion Section 502 guarantees to help more than 141,000 rural American families become homeowners. One of those families is Jeff, a single father, and his four children in Morristown, Tennessee. Back injuries limited Jeff's ability to work and the family lived in a doublewide trailer. Eventually the family moved in to affordable rental housing owned and maintained by Clinch-Powell RC&D, a Federation of Appalachian Housing Enterprises (FAHE) Member. With assistance from Clinch-Powell, Jeff applied for a Section 502 Direct loan. FAHE helped prepare the application. Jeff and his children will soon be moving into their new home. The Section 502 direct program is also an essential tool for the Mutual Self-Help Housing Program, where groups of six to 12 families are paired together to help build each other's houses with technical assistance from non-profit organizations. This program, which includes more than 100 Self-Help Grantee Organizations in 40 states and territories, celebrated its 50th anniversary in 2015, and has helped more than 50,000 families build their own homes. The Self-Help housing program is bigger than just homeownership: through the technical assistance from organizations like the Coachella Valley Housing Corporation (CVHC), this program allows families to gain financial stability and builds communities where children can thrive. For example, in Mecca, California, CVHC helped the Rodriquez family, including four children, move from their dilapidated rental apartment into a safe, clean rental complex, and eventually to become homeowners through the Mutual Self Help program. Juan Rodriguez, one of those children, went on to graduate from UC Berkeley, and now helps CVHC improve the community he grew up in. The success of the Self-Help and Section 502 Direct programs depend on the partnership with community development organizations operating around the country. Like CVHC, Pathfinder Services, Inc. is a not-for-profit human and community development. With Pathfinder's assistance, the Alexanders, mentioned above, were able to escape their inadequate rental home and regain homeownership through the Section 502 direct loan program. The Alexanders are now the proud owners of a new home in Fort Wayne, Michigan– a safe neighborhood where their daughters can play and grow. It is important to celebrate the success of these families and recognize the dedication of organizations like CVHC, FAHE and Pathfinder Services. However, there is more work to be done. Affordability remains a barrier for many seeking homeownership, and in some communities a lack of affordable housing options is hindering economic prosperity for the community.  For example, in some communities in parts of North Dakota businesses are unable to fill well-paying jobs due to an absence of affordable housing. As National Homeownership Month comes to an end, we must continue to work to ensure that all families around the country have an opportunity to achieve the American Dream.