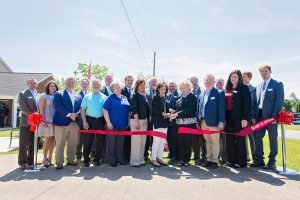 Greystone Affordable Development, an affordable housing development company and a member of the National Rural Housing Coalition (NRHC), and Winterwood, Inc., a property management company, recently celebrated the reopening of 18 newly-renovated affordable housing communities in Kentucky. All of the properties were financed through the U.S. Department of Agriculture (USDA) Rural Development Section 515 program and ranged from 12 to 60 units per property.
In total, 563 units located in 14 counties were included in the recapitalization and rehabilitation project, which was completed in just 12 months. Greystone worked with Winterwood, USDA's Rural Housing Service (both the Washington, D.C. and Kentucky State Offices), the Kentucky Housing Corporation, and the Community Affordable Housing Equity Corporation to secure the necessary financing, which totaled $65 million. Rural Development's Multifamily Preservation and Revitalization Program was essential to the project, and contributed to a $22 rent decrease per unit.
Nearly half of the rehabilitated units (253 units) used energy incentives and rebates through the Louisville Gas and Electric Company and the Kentucky Utilities Company, increasing the energy efficiency of these units by 30 percent.
Greystone Affordable Development, an affiliate of Greystone & Co., Inc., is a leader in the development, recapitalization, rehabilitation, and preservation of affordable rural rental housing. Including the recently completed Kentucky project, Greystone has managed the preservation and rehabilitation of over 8,200 rental units and has another 5,800 in various stages of completion.
For more information about the project and the grand opening, please see Greystone's press release.